Testimonies

Home | Check Rides | Private | Instrument | Commercial | CFI | CFII | ATP | Biography | Notams | Master CFI | CFI Course | Master GIC

Dear Nan,
When I showed up for my Private Pilot check ride I was really nervous. But that soon resided when I saw how friendly and fun you were to be around. I felt relaxed and not on pins and needles during the check ride. Thanks for an exciting time, and of course for issuing my pilot certificate.
-James Lam, Nan's Webmaster
---
Nan:
You make me roll, pitch, and yaw. Thanks for the fun check rides!
-James,
Chief Meteorologist, Fox 23 News, Tulsa, OK
---
Nan,
That was the single most fun I've ever had on a flight! It's obvious that your happy with life & aviation. Keep that Smile!!! Look forward to my INST. & COMM. flights with you. God Bless!
-James
---
Dear Nan Gaylord:
I enjoyed meeting you on Thursday, January 18, 2001, when we completed my Instrument check ride. I hope you had as good a time as I did. It was not fun as a trip to the dentist. As it turns out I was put at ease (except my shaky throttle hand) and able to concentrate on my chore before me. You obviously are doing what you were meant to do with your life. I hope I will be so lucky with my future.
Again, thank you for your time.
Sincerely,
-Daniel
---
Dear Nan,
Thank you so much for all your encouragement and making me feel so comfortable during the FAA Instrument Rating Exam. You were such a blessing.
Please let me know if there is anything I can do for you.
God bless you!
-Bill
---
Dear Nan:
I cannot thank you enough for taking the time to finish my examination in "off time" of your normal working hours. You are the consummate professional and a real people person all wrapped into one.
Sincerely,
-Carl
---
Nan,
You are definitely first class because you are the BEST examiner out there. Thank you very much for all that you have done for me. In knowing you I have become a better pilot. Thanks for the knowledge you have shared. Your friendship means a lot to me.
THANKS AGAIN!!! I will keep in touch, Shane Maas.
---
Nan,
You are by far the greatest examiner of all time. You have a special quality of making every exam an exciting and pleasurable experience. Truth be told, there is no other examiner that could possibly make me feel as comfortable and relaxed in what should otherwise be a stressful situation. I give you two thumbs up! You are definitely five star material.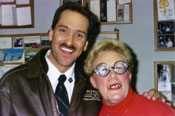 Thank you for all the fun years of your friendship. Sincerely, Rick.
---
"Thanks, Nan, for a great check ride! You're a great person, and I look forward to doing more with you. I hope Beary had an enjoyable first flight! Thanks Nan!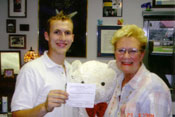 Jake Laferney, Beary White, and Nan Gaylord on Jake's commerical checkride 06/23/2005.
---
Nan,
It was just so great getting to fly with you again. I felt like I was stepping back to one of my first check rides with you. I just loved it. Your check rides, no matter how stressful, were also the most fun of any I've taken over the last twelve years of flying! I can't believe it's been that long.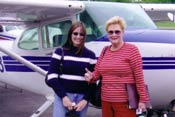 Thanks again,
-Delaney
---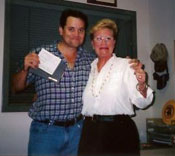 I have taken several check rides throughout the USA, but my Commercial ride with Nan Gaylord was superb! Nan put me at ease from the start. She has a unique way of affirming knowledge, while making the experience enjoyable and memorable. I highly recommend Nan Gaylord, "Queen of Check Rides"!
-David Hale
---
I have had the privilege of knowing Nan for 13 years now. Nan administered my private pilot, instrument rating, and instrument flight instructor ratings, and has kept my CFI current for the last 10 years. Nan has been my mentor and friend for over 10 years now. Any checkride you take with her will be fun and enjoyable. You will learn a lot, and come away with a memorable experience to say the least. I would recommend Nan for any checkride you have a desire to take, and I will always send my students to the best examiner in the world…Nan.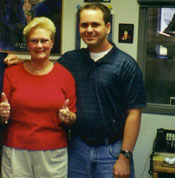 Thanks Nan for all the wonderful times and experiences and I look forward to sharing many more in the future!
Eric Brown
---
Thanx for visiting my web site.
Call, e-mail, or come and see me.

Tailwinds and Blessings,
-Nan